Sentinel Harness - KZ Valve Compatibility - 3.31.2022
Modifiled By: Greg Mumm at March 31, 2022, 5:38 p.m.
---
Tags:
sentinel
kz
kz valve
zip valve
tx2
tWCc94dbmlPL25onkojZ2hX2uets5YR0p47CKObmzCfUpPumMXm25KbJ3tElbrg2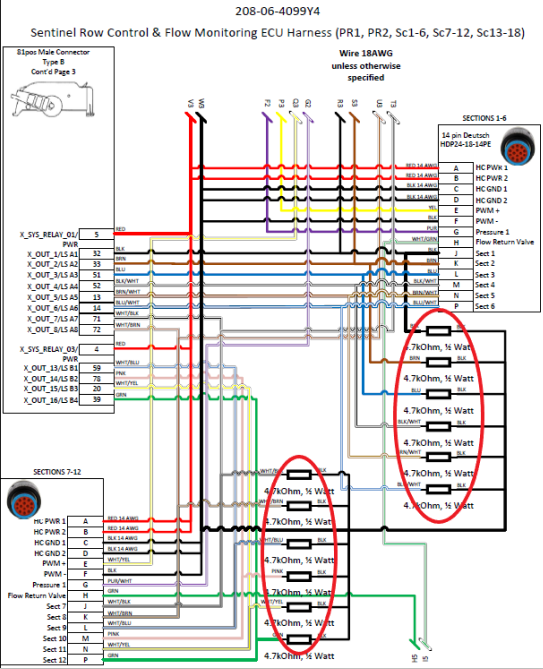 From Justin Davis on 3/31/22: Last fall we started selling new zip valves and TX2 section valves from KZ. The control board in both changed and with this change we no longer have the need for resistors built into our Sentinel ECU adapter harnesses. Above is a snip of an older Sentinel Rate Control harness that had those resistors circled in red. Moving forward our newest versions of Sentinel ECU harnessing 208-06-50XX will not have resistors built into the harness. Because of this there are scenarios where older valves may not be interchangeable with newer style harnessing. For example, if you were to take an older style yellow gasket TX2 valve and plug it into our newer style Sentinel ECU harnessing (208-06-50XX) the valve would open but would not close. The yellow gasket valves require the resistor built into the harness to close. The same would apply if you tried to plug in the older style zip valve 103-4496Y1 into a newer style Sentinel ECU harness (208-06-50XX). The valve would open but not close. These scenarios ONLY apply when hooking to our Sentinel ECU to control the system. When integrating into other platforms for control we can use either zip valve or TX2 section valve as a replacement. If a dealer stocks our new black gasket TX2 valve, he could replace an older style yellow gasket TX2 valve with the black gasket version. The same applies with the zip valve either can be used as a replacement. Some dealers may have a few 103-4496Y1 zip valves on the shelf but we do not. We sold out of those last fall and only sell the 103-5016Y1 moving forward. The 103-5016Y will work with any harnessing Sentinel or non-Sentinel. The black gasket TX2 valve will also work in any scenario. It's the older valves you need to pay attention to. There are also a lot of Gen2 LiquiShifts in the field. If an actuator goes bad on a Gen2 LiquiShift a yellow gasket TX2 valve has to be used for the replacement on any control system. The black gasket version will stay red and not open and can't be used in this scenario. Just an FYI we will continue to carry both yellow and black gasket TX2 valves to service all of our systems in the field. The attached document can be used to help decide what can be used where. I intend to get this on the webstore as well in some fashion so dealers can also use this as a guide. The first page explains a few different scenarios and the 2nd page is a chart to show what valves will work with certain Sentinel adapter harnesses. Let me know if you have any questions with this.
Symptoms:
Included in description.
Resolution:
See description and attached document.
Attached Documents
---
Related Items:
---